Whether you need food for after-hours employee meals, lunch for a staff meeting, cakes for a birthday shindig or a full spread for the Christmas party, Seamless has the answer. Our Seamless Corporate Accounts brings together the best restaurants in London to cater to your office, whatever the occasion. With online ordering and easy restaurant search, you save time and hassle whenever your employees need to order in food. And with consolidated billing, you can save money, too.
---
Restaurants & Caterers in South London
From Chelsea to Colliers Wood, no matter what your budget or office food needs, Seamless Corporate Accounts will keep your hungry employees happy. Here's a sneak peek at our network.
EAT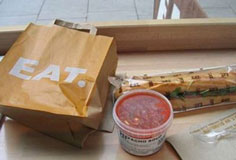 With something for everyone, casual sandwiches from EAT are a great options for your next catered lunch meeting.
Crussh
Crussh delivers to offices all the same fresh products from their store to your office, plus a selection of platters. Consider Crussh to cater the office's large parties, small parties, and conferences.
POD
Looking for something different for breakfast or lunch? Order POD for your office for nutritious options always changing with the season. Consider their signature scrambled eggs, salads, hot pods, energy pods, or blitzes for the next meeting.
Corporate catering and office food delivery for:
SE1, SE3 (for now!).